We're thrilled to announce that the Beta95X V3 pusher whoop drone is officially released! As the upgrade version of Beta95X V2, it has a brand new pusher design and more powerful configuration, bringing pilots a smoother flying experience! What's more, with the built-in mount for the SMO 4K and a low center of gravity "pusher-style" inverted frame, Beta95X V3 Whoop Quadcopter perfectly matches for SMO 4K camera, and gives the pilots an incredibly stable and clear 4K footage video while in the FPV flight!
DJI FPV goggles can be used on Beta95X V3 HD Digital VTX. Except that, we also release the
SMO 4K camera.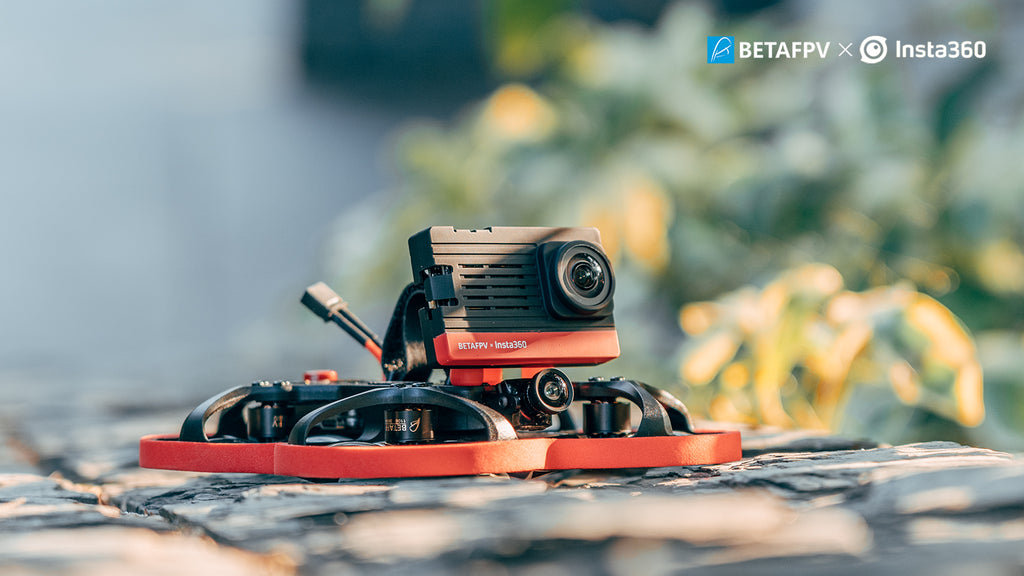 Bullet Point
Beta95X V3 is perfectly suitable for the SMO 4K action camera. With a built-in camera mount and a power cable, it's very convenient for out-of-the-box installation and power input for the camera. Combining with SMO 4K, pilots can get a stable & high-quality video while in FPV flight.
Adopts a brand-new innovative pusher frame design, the frame is made of PA12 material, which has high abrasion resistance and can dampen noise & vibrations, bringing the drone a more durable flight and no fear of damage. The frame also comes with an EVA foam cushioning design to give you more safety flying.
Equipped with F4 AIO 20A Toothpick FC V4, 1106 3800KV motor, and D63 5-blade props, this highly efficient power system keeps Beta95X V3 more powerful and less noise in flight. For the battery, we highly recommend you using BETAFPV 450mAh 4S battery to get the best flying experience. Centering the drone's gravity by reversed-motor design and top battery place makes the drone more maneuverable to achieve all FPV freestyle tricks such as diving.
Further improves the shock mitigation system to eliminate the shake of the camera, Beta95X V3 will make the camera more stable on the flight, which ensures pilots can capture all the beautiful moments of flight with the stabilized and clear video.

Specification
Item: Beta95X V3 Whoop Quadcopter
Weight: 99.1g (without battery)
Wheelbase: 95mm
FC: F4 AIO 20A Toothpick FC V4
Frame: Beta95X V3 Frame Kit
Motors: 1106 3800KV Brushless Motor
Props: Gemfan D63 5-Blades Props
Receiver Option: Frsky FCC/Frsky LBT/TBS/PNP
Camera: EOS Camera
FPV Camera Degree: 25°- 45°
VTX: M02 25-250mW 5.8G VTX
Camera Mount: SMO 4K camera Mount
HD Camera Mount Degree: 5°- 45°
Antenna: Air 5.8GHz Antenna (RHCP)
Battery: 450mAh 4S battery(Not including)
Charge Connector: XT30
Flight time: About 4.5 min flight with 450mAh 4S battery

BETAFPV SMO 4K Camera
SMO 4K camera, a high-degree lightweight action camera for FPV drones that is developed by BETAFPV using Insta360 technology. SMO 4K camera only weighs 30g and perfectly fit for FPV drones, and brings pilots an extraordinary flying experience and a strong visual impact. What's more, it almost compatible with all kinds of FPV drones like micro cinewhoop Beta95X V3, 3-4in the ducted quad, 4-5in long-range FPV drone, and fixed-wing. It will be the perfect action camera for pilots in search of high-quality video with FPV racing drones.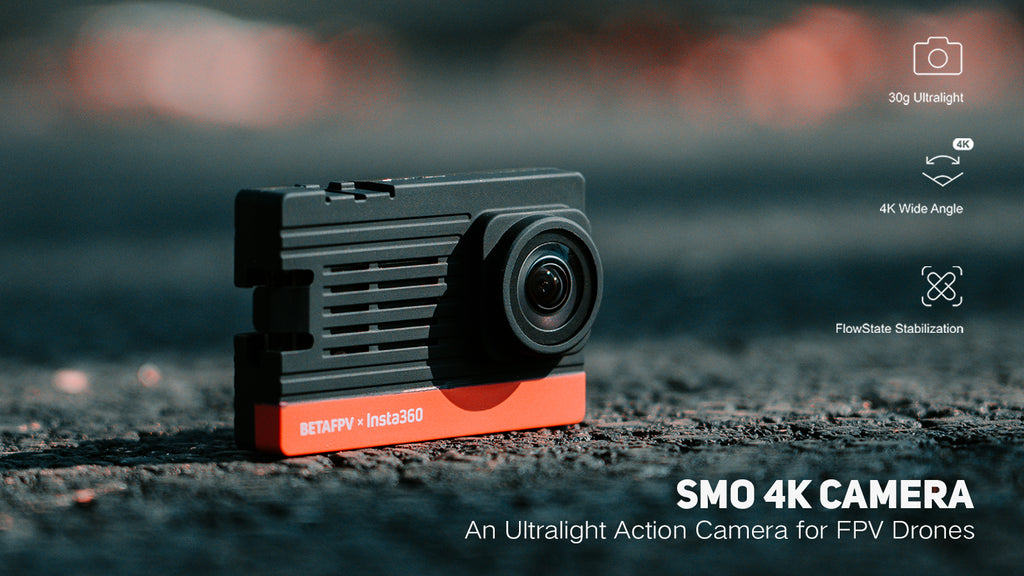 Beta95X V3 Pusher Frame
A newly designed pusher whoop frame - Beta95X V3 Frame

 

is made of high-quality PA12 material, which can dampen noise and vibrations and have high abrasion resistance, bringing the drone a more durable flight and no fear of damage. Meanwhile, it also comes with an EVA foam cushioning design to give you more safety flying.
  The pusher style puts all the cameras and batteries on the top of the platform, makes the center of gravity is right in the middle of the drone, brings the best fly operability.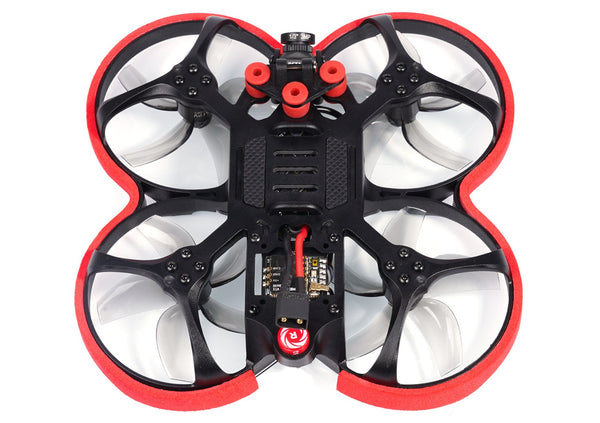 Camera & VTX
Customized EOSV2
micro FPV camera is also provided on Beta95X V3 Whoop Quadcopter, brings a high-quality video and low RF interference. In addition,
M02 25-350mW VTX
 is a high-quality 5.8GHz VTX including 25mW, 100mW, 200mW and 350mW. With 350mW output power, pilots can
fly drones up to 600 meters away to explore more possibilities and fun.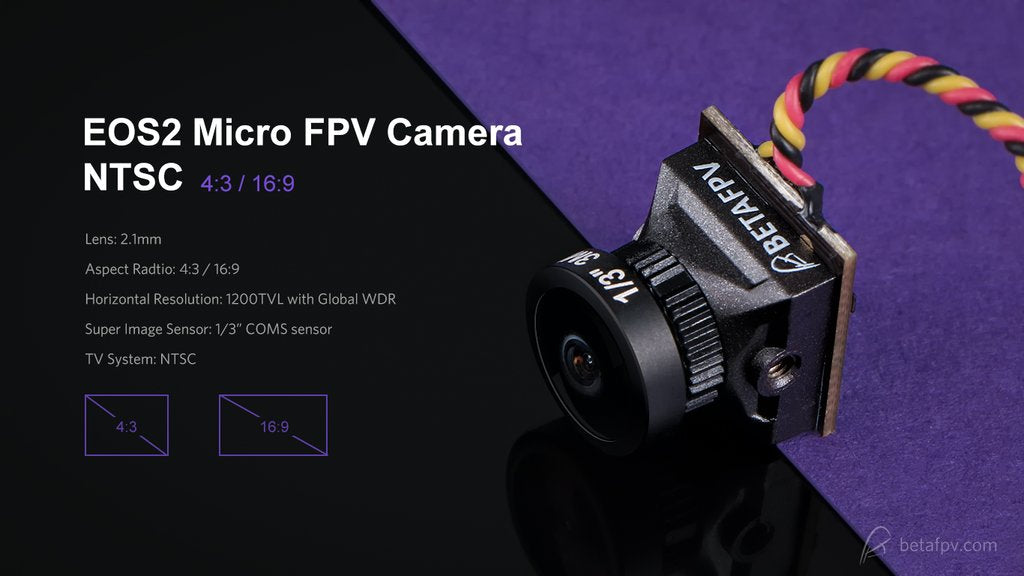 FC & ESC
Beta95X V3 series whoop drone is equipped with the new released F4 20A AIO toothpick brushless FC, it extremely reduces the weight while improving the ability of the ESC to continuous current 20A, and brings pilots more power to fly the Beta95X V3 quad! Meanwhile, the new 20A FC V4 adds 2 pin connector ports for DJI Digital VTX and Rx, just plug & play, less solder work needed, super easy to install.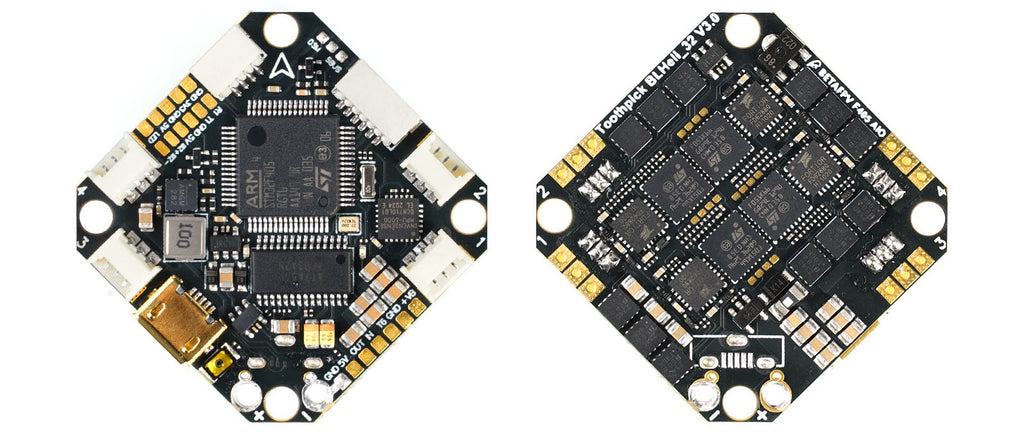 Motor & Props
Gemfan D63 5-Blades Props is designed for the inverted installation, and it brings pilots a smooth flight! Meanwhile, compared with

 

D63 3-blades propellers, D63 5-blade props are more durable and more powerful, offers pilots a high-efficiency flight experience. Equipped with the

 

1106 3800KV Brushless Motor
, it brings a stronger power and lower noise, which will give pilots an unprecedented flying experience.
The Beta95X V3 Whoop Quadcopter also comes with "props out" by default. Why we need "Props out" direction?
Default Betaflight props direction, quadcopter dips, and "washes out" in hard corners. With reversed props or "props out", no more dipping even in the hardest cornering.

Package include
1 x Beta95X V3 Whoop Quadcopter
1 x Gemfan D63 5-blades Propellers(2CW+2CCW)
1 x 20mm FPV Camera Mount
1 x Spare EVA Foam Tape
1 x USB Adapter Board for FC
1 x Adapter Cable for Customized Naked Camera