F4 1S 12A AIO Brushless Flight Controller V2.2 is the default FC for Cetus X brushless whoop quadcopter, also great for 85mm whoop drones like Meteor85 and 3" toothpick drones like HX115 SE Toothpick Drone and HX115 LR Toothpick Drone. We updated the FC to V2.2 with BMI270 gyro and BB51 ESC hardware in place of ICM20689 gyro and BB21 ESC hardware.
Bullet Point
F4 1S 12A AIO Flight Controller is the best choice for building u

ltra-lightweight 

3" toothpick drones like HX115 SE FPV Quad and 85mm whoop drones. 

Most of the 1S flight controllers on the market come with 5A ESC by now, but this FC especially integrates 1S 12A ESC, providing more sufficient power for 3" toothpick drones or 85mm whoop drones.

Built-in current meter, 2 programmable RGB LEDs, and SPI ELRS or Frsky receiver. At the same time, all the pads are left for the external receivers with UART1 and UART2, for buzzers, etc.

Large pads are reserved for solder motor cables, this design will make solder easier.
Specification of FC
Item: F4 1S 12A AIO FC
Weight: 4.74 g (without power cable and BT2.0 connector)
CPU: STM32F411CEU6 (100MHZ )
Six-Axis: BMI270 (SPI connection)
Firmware version: betaflight_4.3.1_BETAFPVF4SX1280
OSD: Built-in BetaFlight OSD (STM32 controls OSD chip over SPI in DMA mode)
Receiver: SPI ELRS 2.4G Receiver
Motor Pin Connector: 1.25mm Header Pins
Mounting Hole Size: 26mm x 26mm (suitable for whoop pattern mounting hole)
USB Port: SH1.0 4-Pin
Specification of 1S 12A ESC
Built-in ESC with 12A continuous and peak 25A current
Input voltage: 1S-2S
ESC firmware: C_X_30_REV16_7.hex for BB51 BLHeli_S hardware
Signal support: D-shot150, D- shot300, D-shot600, Oneshot125, Multishot, PWM
The BLHeli_S firmware could support the BB51 hardware now. This V2.2 board is powered by BB51 hardware. If you want to setup the ESC specification, please use the BLHeliSuite16714902A_Beta or ESC-Configurator.
Note: BetaFlight Configurator, BLHeli Configurator, and Bluejay Configurator are invalid for the BB51 ESC now.
Diagram for F4 1S 12A AIO FC
Below is the diagram for ELRS 2.4G V2.2 board.
The current meter is integrated on the FC board. Here is the configuration in Betaflight Configurator.

SPI ELRS 2.4G RX
This board integrates the receiver with the most popular radio link ExpressLRS since 2021. ExpressLRS aims to achieve the best possible link performance in both speeds, latency, and range. Know more about the ExpressLRS project on Github or join the discussion in the Facebook Group.
F4 1S 12A AIO V2.2 integrates SPI ELRS 2.4G RX. The configuration is as follows.
How to Bind with Betaflight FC with SPI ExpressLRS Receiver.
How to Bind with Betaflight FC with External ExpressLRS Receiver.
More details and discussion on Github about SPI ELRS receiver.
SPI Frsky RX
Come with the built-in SPI Frsky Receiver (CC2500 chip), F4 1S 12A AIO FC can be compatible with Futaba S-FHSS, Frsky D8, and D16 protocol. The default protocol is configured to Frsky D16 FCC out of the factory. Pilots could set up the protocol according to your own need in Betaflight Configurator.
Configuration

Protocol

FRSKY_D

Frsky D8

FRSKY

_X

Frsky D16 FCC (ACCST 1.X version)

FRSKY_X_LBT

Frsky D16 LBT (ACCST 1.X version)

SFHSS

Futaba S-FHSS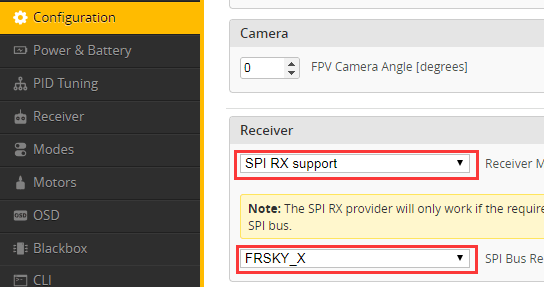 How to Bind with Betaflight FC with SPI Frsky Receiver.
Betaflight Firmware and CLI
F4 1S 12A AIO SPI ELRS 2.4G comes with the default firmware betaflight_4.3.1_BETAFPVF4SX1280, which supports ELRS V2.0 only. We update the gyro to BOSH BMI270 since the V2.2 version. 
Pay attention, ONLY the newest Betaflight firmware 4.3.1 start to support this BMI270 gyrometer. Please check the below link to download the firmware.
Download the firmware and CLI dump file for the F4 1S 12A FC (ELRS 2.4G) V2.2 board.
Recommend Parts
If you want to try the popular ExpressLRS receiver version for long-range performance, highly recommend you check the items for the ExpressLRS series.
Package
1 * F4 1S 12A AIO FC
4 * Anti-vibration Rubber Dampers
4 * M2 x 10mm Screws
4 * M2 x 10mm Screws
4 * M2 Screw Nut

8 * PH-1.25 Connectors for Motor

1 * SH1.0 4-Pin Cable

1 * SH1.0 4-Pin to USB Type-C Adapter